Strict Standards

: Only variables should be assigned by reference in

/var/www/devantier.nu/public_html/wp-includes/functions.php

on line

590

&laquo

Tom kategori

Fre 27.jan. 2006

Strict Standards

: Only variables should be assigned by reference in

/var/www/devantier.nu/public_html/wp-includes/functions.php

on line

590 Lør 28.jan. 2006

»
Postet maj 26th, 2007, af Birgitte Devantier
Deprecated
: preg_replace() [
function.preg-replace
]: The /e modifier is deprecated, use preg_replace_callback instead in
/var/www/devantier.nu/public_html/wp-includes/functions-formatting.php
on line
76
Strict Standards
: Only variables should be assigned by reference in
/var/www/devantier.nu/public_html/wp-includes/functions.php
on line
590
Strict Standards
: Only variables should be assigned by reference in
/var/www/devantier.nu/public_html/wp-includes/functions.php
on line
590
Strict Standards
: Only variables should be assigned by reference in
/var/www/devantier.nu/public_html/wp-includes/functions.php
on line
590
Strict Standards
: Only variables should be assigned by reference in
/var/www/devantier.nu/public_html/wp-includes/functions.php
on line
590
Strict Standards
: Only variables should be assigned by reference in
/var/www/devantier.nu/public_html/wp-includes/functions.php
on line
590
Strict Standards
: Only variables should be assigned by reference in
/var/www/devantier.nu/public_html/wp-includes/functions.php
on line
590
Strict Standards
: Only variables should be assigned by reference in
/var/www/devantier.nu/public_html/wp-includes/functions.php
on line
590
Strict Standards
: Only variables should be assigned by reference in
/var/www/devantier.nu/public_html/wp-includes/functions.php
on line
590
Strict Standards
: Only variables should be assigned by reference in
/var/www/devantier.nu/public_html/wp-includes/functions.php
on line
590
Strict Standards
: Only variables should be assigned by reference in
/var/www/devantier.nu/public_html/wp-includes/functions.php
on line
590
Strict Standards
: Only variables should be assigned by reference in
/var/www/devantier.nu/public_html/wp-includes/functions.php
on line
590
Strict Standards
: Only variables should be assigned by reference in
/var/www/devantier.nu/public_html/wp-includes/functions.php
on line
590
Strict Standards
: Only variables should be assigned by reference in
/var/www/devantier.nu/public_html/wp-includes/functions.php
on line
590
Strict Standards
: Only variables should be assigned by reference in
/var/www/devantier.nu/public_html/wp-includes/functions.php
on line
590
Strict Standards
: Only variables should be assigned by reference in
/var/www/devantier.nu/public_html/wp-includes/functions.php
on line
590
Strict Standards
: Only variables should be assigned by reference in
/var/www/devantier.nu/public_html/wp-includes/functions.php
on line
590
Strict Standards
: Only variables should be assigned by reference in
/var/www/devantier.nu/public_html/wp-includes/functions.php
on line
590
Strict Standards
: Only variables should be assigned by reference in
/var/www/devantier.nu/public_html/wp-includes/functions.php
on line
590
Strict Standards
: Only variables should be assigned by reference in
/var/www/devantier.nu/public_html/wp-includes/functions.php
on line
590
Strict Standards
: Only variables should be assigned by reference in
/var/www/devantier.nu/public_html/wp-includes/functions.php
on line
590
REJSEBESKRIVELSE OM
BJERGGORILLAER OG
BESTIGNINGEN AF KILIMANJARO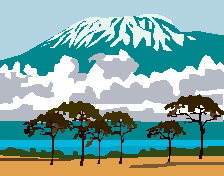 Vækkeuret kimede irriterende på et tidspunkt det aldrig plejer at kime. En infernalsk larm midt om natten. Helt ærligt, klokken var 3.30. Der var grus i øjnene, men samtidig kriblede det i maven, for der ventede os en ikke helt almindelig dag. Det var surrealistisk at tænke på, for der lå sne udenfor og det frøs ÷ 8°, og i aften ville vi befinde os i 30° varme nede i Kenya. Nå, men det krævede jo under alle omstændigheder, at man på dette ukristelige tidspunkt kom ud af fjerene, og af sted til lufthavnen hvor vi skulle mødes med resten af det gamle "Danish coffee-team." Gruppen vi tidligere havde rejst med i Afrika.
Vi samledes ved check-ind-skranken kl. 6.25. Sidste mand PerJ. ankom, og alle var samlede, femten personer i alt. Tænk at det virkelig er hen ved to år siden vi sidst rejste sammen. Fire fra det gamle coffee-team manglede dog, men i stedet var tre nye kommet til, Lene, Helle og Flemming.
Og hvorfor hedder vi så "The Danish Coffee-team." Jamen det var fordi Charl, vores sydafrikanske guide i 2004, aldrig før havde mødt folk der drak så meget kaffe. I øvrigt havde vi holdt af hinandens selskab i en grad, at han og Josef (også fra "Nomad Tours"), skulle have været med os igen. I mellemtiden skete der bare det, at Charl kvittede sit job og flyttede til London, hvorfra han for øvrigt havde besøgt os for ganske få uger siden.
Nå, men det var et lille tilbageblik, og det er altså ikke altid tingene forløber som planlagt, hvilket vi fik bekræftet yderligere da vi landede i Kenya's hovedstad Nairobi, meget præcist - men en gentagelse - det som bare ikke måtte ske - skete.
Per J's rygsæk dukkede ikke op. Jamen det er da ikke muligt, det var nøjagtig den samme hændelse sidst vi var i Afrika. Hvordan kan én og samme mand være så hamrende uheldig. I køen ved paskontrollen havde vi joket med det og blevet enige om, at det kan man bare ikke opleve to gange, men det er altså hermed dementeret. Vi havde oprigtig ondt af Per, men uanset hvor meget vi håbede, dukkede rygsækken ikke op.
Vi gik ud og mødte Fortune og Joshua fra "Nomad Tours," der holdt med trucken, der denne gang hed "Marvin." (Alle Nomads køretøjer har navne). Og for hvem der ikke har deltaget, hørt eller læst om vores tidligere Afrika rejser, skal nævnes. Nomad Tours er et Sydafrikansk rejsebureau beliggende i Cape Town. De arrangerer "overland-tours" med trucks, dvs. lastbiler der er ombyggede til noget der minder om en bus, som medbringer lejrudstyr, telte, madrasser, feltstole, køkken m.v.
Det var sjovt at hoppe ind i trucken, der skulle være vores hjem de næste uger i Afrika, og straks fornemme og genkende følelsen af hygge, fællesskab og nærvær.
Blot en halv time senere nåede vi "Kenya Comfort In." Det var dejlig behageligt efter den meget lange flyvetur, at den første overnatning foregik på hotel. Der skulle da heller ikke mere end en enkelt fælles velkomst øl til, før vi gevaldig trætte tøffede i seng.