Strict Standards

: Only variables should be assigned by reference in

/var/www/devantier.nu/public_html/wp-includes/functions.php

on line

590

&laquo

Lør 12.okt. 2002

Søn 13.okt. 2002

Strict Standards

: Only variables should be assigned by reference in

/var/www/devantier.nu/public_html/wp-includes/functions.php

on line

590 Man 14.okt. 2002

»
Postet december 20th, 2006, af Birgitte Devantier
Deprecated
: preg_replace() [
function.preg-replace
]: The /e modifier is deprecated, use preg_replace_callback instead in
/var/www/devantier.nu/public_html/wp-includes/functions-formatting.php
on line
76
Strict Standards
: Only variables should be assigned by reference in
/var/www/devantier.nu/public_html/wp-includes/functions.php
on line
590
Strict Standards
: Only variables should be assigned by reference in
/var/www/devantier.nu/public_html/wp-includes/functions.php
on line
590
Strict Standards
: Only variables should be assigned by reference in
/var/www/devantier.nu/public_html/wp-includes/functions.php
on line
590
Strict Standards
: Only variables should be assigned by reference in
/var/www/devantier.nu/public_html/wp-includes/functions.php
on line
590
Strict Standards
: Only variables should be assigned by reference in
/var/www/devantier.nu/public_html/wp-includes/functions.php
on line
590
Strict Standards
: Only variables should be assigned by reference in
/var/www/devantier.nu/public_html/wp-includes/functions.php
on line
590
Strict Standards
: Only variables should be assigned by reference in
/var/www/devantier.nu/public_html/wp-includes/functions.php
on line
590
Strict Standards
: Only variables should be assigned by reference in
/var/www/devantier.nu/public_html/wp-includes/functions.php
on line
590
Strict Standards
: Only variables should be assigned by reference in
/var/www/devantier.nu/public_html/wp-includes/functions.php
on line
590
Strict Standards
: Only variables should be assigned by reference in
/var/www/devantier.nu/public_html/wp-includes/functions.php
on line
590
Strict Standards
: Only variables should be assigned by reference in
/var/www/devantier.nu/public_html/wp-includes/functions.php
on line
590
Strict Standards
: Only variables should be assigned by reference in
/var/www/devantier.nu/public_html/wp-includes/functions.php
on line
590
Strict Standards
: Only variables should be assigned by reference in
/var/www/devantier.nu/public_html/wp-includes/functions.php
on line
590
Strict Standards
: Only variables should be assigned by reference in
/var/www/devantier.nu/public_html/wp-includes/functions.php
on line
590
Strict Standards
: Only variables should be assigned by reference in
/var/www/devantier.nu/public_html/wp-includes/functions.php
on line
590
Strict Standards
: Only variables should be assigned by reference in
/var/www/devantier.nu/public_html/wp-includes/functions.php
on line
590
Strict Standards
: Only variables should be assigned by reference in
/var/www/devantier.nu/public_html/wp-includes/functions.php
on line
590
Strict Standards
: Only variables should be assigned by reference in
/var/www/devantier.nu/public_html/wp-includes/functions.php
on line
590
Strict Standards
: Only variables should be assigned by reference in
/var/www/devantier.nu/public_html/wp-includes/functions.php
on line
590
Strict Standards
: Only variables should be assigned by reference in
/var/www/devantier.nu/public_html/wp-includes/functions.php
on line
590
Strict Standards
: Only variables should be assigned by reference in
/var/www/devantier.nu/public_html/wp-includes/functions.php
on line
590
Strict Standards
: Only variables should be assigned by reference in
/var/www/devantier.nu/public_html/wp-includes/functions.php
on line
590
Strict Standards
: Only variables should be assigned by reference in
/var/www/devantier.nu/public_html/wp-includes/functions.php
on line
590
Strict Standards
: Only variables should be assigned by reference in
/var/www/devantier.nu/public_html/wp-includes/functions.php
on line
590
Strict Standards
: Only variables should be assigned by reference in
/var/www/devantier.nu/public_html/wp-includes/functions.php
on line
590
Strict Standards
: Only variables should be assigned by reference in
/var/www/devantier.nu/public_html/wp-includes/functions.php
on line
590
Strict Standards
: Only variables should be assigned by reference in
/var/www/devantier.nu/public_html/wp-includes/functions.php
on line
590
Strict Standards
: Only variables should be assigned by reference in
/var/www/devantier.nu/public_html/wp-includes/functions.php
on line
590
Strict Standards
: Only variables should be assigned by reference in
/var/www/devantier.nu/public_html/wp-includes/functions.php
on line
590
Strict Standards
: Only variables should be assigned by reference in
/var/www/devantier.nu/public_html/wp-includes/functions.php
on line
590
Strict Standards
: Only variables should be assigned by reference in
/var/www/devantier.nu/public_html/wp-includes/functions.php
on line
590
Strict Standards
: Only variables should be assigned by reference in
/var/www/devantier.nu/public_html/wp-includes/functions.php
on line
590
Strict Standards
: Only variables should be assigned by reference in
/var/www/devantier.nu/public_html/wp-includes/functions.php
on line
590
Strict Standards
: Only variables should be assigned by reference in
/var/www/devantier.nu/public_html/wp-includes/functions.php
on line
590
Strict Standards
: Only variables should be assigned by reference in
/var/www/devantier.nu/public_html/wp-includes/functions.php
on line
590
Strict Standards
: Only variables should be assigned by reference in
/var/www/devantier.nu/public_html/wp-includes/functions.php
on line
590
I seng kl. 4.00 om morgenen, og Ida vækkede os lidt i 8.00. Hun påstod at vi havde aftalt, at den første der vågnede skulle vække de andre for at se solopgangen. Hvis det passer, må jeg indrømme at have været beruset.
Efter morgenmåltidet forlod igår dagens andet rejseselskab skyndsomt campen, formentlig i håb om nattefred et bedre sted. Av, hvor var de sure. Selv forholder vi os temmelig stille, da hele Nomad Tours led mere eller mindre af tømmermænd.
Lake Malawi er en stor langstrakt sø på 120 x 600 km, og vi befinder os som sagt midtvejs oppe af vestbreden. Vi har udsigt til en lille ø, og langt ude til højre ligger bjergene i en blå dis. Det er simpelthen idyl at ligge i sandet, og høre bølgeskvulpet. De yngre i vores gruppe har allerede energi til lidt boldspil. Jeg tror det er sundere at vente til i morgen, og sjovt nok er Ida, Per og Morten fuldstændig enige i dette.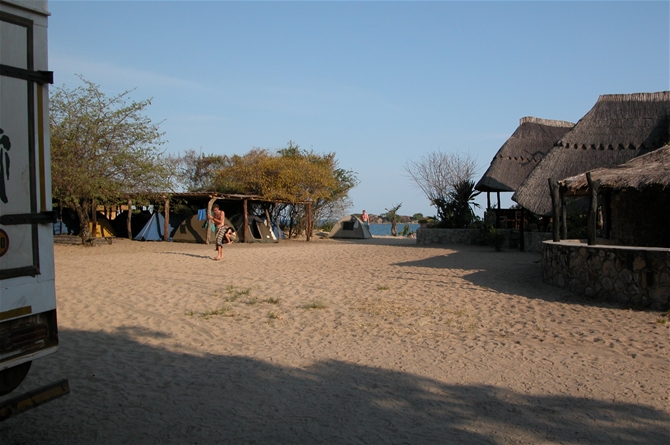 Det er enormt modsætningsfyldt, pludselig at være på en så veletableret camp med fine toilet og badeforhold, og samtidig underligt at de lokale er forment adgang. Campen er indhegnet, og indgangen bevogtet. Når det føles underligt, jamen så er det fordi det på den ene side er rart at kunne være lidt i "fred," og på den anden side føles dét da også forkert.
Lige uden for "gaten" altså indgangen, havde nogle af de indfødte stillet en række små sivhytter op. Det måtte vi naturligvis ud og se. Tak skævben, vi blev nærmest overfaldet af unge mænd der hver især ville have os ind i netop deres hytte, for at købe tøj, trommer eller træskærerarbejde.
"Hey I am Patterson, come and look. Where you from? I give you special price," og sådan forsatte det, til vi havde været inde i alle hytterne. Vi lod os da også friste. En af dem malede forskellige motiver på T-shirts, og det var da noget vi kunne transportere med os i rygsækkene, til børn og børnebørn der hjemme. Tilslut lavede vi en aftale med en ung fyr som hed Hamson. Han lovede i morgen at vise os rundt i sin landsby, der kun ligger 15 -20 minutters gang fra campen.
At Malawi er et af de lande i Afrika, der dyrker mest marihuana oppe i bjergene, fik vi desværre på en måde også bekræftet. Det fremgik tydeligt, at de fleste af de unge mænd var vinde og skæve af at ryge. I en af hytterne sad en gruppe og trommede i salig ekstase. Hvor stort problemet i Afrika generelt er ved jeg ikke, men i Malawi er marihuanaen øjensynlig let tilgængelig.