Strict Standards

: Only variables should be assigned by reference in

/var/www/devantier.nu/public_html/wp-includes/functions.php

on line

590

&laquo

Tir 8. okt. 2002

Ons 9.okt. 2002

Strict Standards

: Only variables should be assigned by reference in

/var/www/devantier.nu/public_html/wp-includes/functions.php

on line

590 Tor 10.okt. 2002

»
Postet december 19th, 2006, af Birgitte Devantier
Deprecated
: preg_replace() [
function.preg-replace
]: The /e modifier is deprecated, use preg_replace_callback instead in
/var/www/devantier.nu/public_html/wp-includes/functions-formatting.php
on line
76
Strict Standards
: Only variables should be assigned by reference in
/var/www/devantier.nu/public_html/wp-includes/functions.php
on line
590
Strict Standards
: Only variables should be assigned by reference in
/var/www/devantier.nu/public_html/wp-includes/functions.php
on line
590
Strict Standards
: Only variables should be assigned by reference in
/var/www/devantier.nu/public_html/wp-includes/functions.php
on line
590
Strict Standards
: Only variables should be assigned by reference in
/var/www/devantier.nu/public_html/wp-includes/functions.php
on line
590
Strict Standards
: Only variables should be assigned by reference in
/var/www/devantier.nu/public_html/wp-includes/functions.php
on line
590
Strict Standards
: Only variables should be assigned by reference in
/var/www/devantier.nu/public_html/wp-includes/functions.php
on line
590
Strict Standards
: Only variables should be assigned by reference in
/var/www/devantier.nu/public_html/wp-includes/functions.php
on line
590
Strict Standards
: Only variables should be assigned by reference in
/var/www/devantier.nu/public_html/wp-includes/functions.php
on line
590
Strict Standards
: Only variables should be assigned by reference in
/var/www/devantier.nu/public_html/wp-includes/functions.php
on line
590
Strict Standards
: Only variables should be assigned by reference in
/var/www/devantier.nu/public_html/wp-includes/functions.php
on line
590
Strict Standards
: Only variables should be assigned by reference in
/var/www/devantier.nu/public_html/wp-includes/functions.php
on line
590
Strict Standards
: Only variables should be assigned by reference in
/var/www/devantier.nu/public_html/wp-includes/functions.php
on line
590
Strict Standards
: Only variables should be assigned by reference in
/var/www/devantier.nu/public_html/wp-includes/functions.php
on line
590
Strict Standards
: Only variables should be assigned by reference in
/var/www/devantier.nu/public_html/wp-includes/functions.php
on line
590
Strict Standards
: Only variables should be assigned by reference in
/var/www/devantier.nu/public_html/wp-includes/functions.php
on line
590
Strict Standards
: Only variables should be assigned by reference in
/var/www/devantier.nu/public_html/wp-includes/functions.php
on line
590
Strict Standards
: Only variables should be assigned by reference in
/var/www/devantier.nu/public_html/wp-includes/functions.php
on line
590
Strict Standards
: Only variables should be assigned by reference in
/var/www/devantier.nu/public_html/wp-includes/functions.php
on line
590
Strict Standards
: Only variables should be assigned by reference in
/var/www/devantier.nu/public_html/wp-includes/functions.php
on line
590
Strict Standards
: Only variables should be assigned by reference in
/var/www/devantier.nu/public_html/wp-includes/functions.php
on line
590
Strict Standards
: Only variables should be assigned by reference in
/var/www/devantier.nu/public_html/wp-includes/functions.php
on line
590
Strict Standards
: Only variables should be assigned by reference in
/var/www/devantier.nu/public_html/wp-includes/functions.php
on line
590
Strict Standards
: Only variables should be assigned by reference in
/var/www/devantier.nu/public_html/wp-includes/functions.php
on line
590
Strict Standards
: Only variables should be assigned by reference in
/var/www/devantier.nu/public_html/wp-includes/functions.php
on line
590
Strict Standards
: Only variables should be assigned by reference in
/var/www/devantier.nu/public_html/wp-includes/functions.php
on line
590
Strict Standards
: Only variables should be assigned by reference in
/var/www/devantier.nu/public_html/wp-includes/functions.php
on line
590
Strict Standards
: Only variables should be assigned by reference in
/var/www/devantier.nu/public_html/wp-includes/functions.php
on line
590
Strict Standards
: Only variables should be assigned by reference in
/var/www/devantier.nu/public_html/wp-includes/functions.php
on line
590
Strict Standards
: Only variables should be assigned by reference in
/var/www/devantier.nu/public_html/wp-includes/functions.php
on line
590
Strict Standards
: Only variables should be assigned by reference in
/var/www/devantier.nu/public_html/wp-includes/functions.php
on line
590
Strict Standards
: Only variables should be assigned by reference in
/var/www/devantier.nu/public_html/wp-includes/functions.php
on line
590
Strict Standards
: Only variables should be assigned by reference in
/var/www/devantier.nu/public_html/wp-includes/functions.php
on line
590
Strict Standards
: Only variables should be assigned by reference in
/var/www/devantier.nu/public_html/wp-includes/functions.php
on line
590
Strict Standards
: Only variables should be assigned by reference in
/var/www/devantier.nu/public_html/wp-includes/functions.php
on line
590
Strict Standards
: Only variables should be assigned by reference in
/var/www/devantier.nu/public_html/wp-includes/functions.php
on line
590
Strict Standards
: Only variables should be assigned by reference in
/var/www/devantier.nu/public_html/wp-includes/functions.php
on line
590
Nogen ruskede så voldsomt i vores telt, at både Morten og jeg vågnede med et chok. Hvad eller hvem i alverden angreb os? Tanken om at vi befandt os i Afrikas fri natur omgivet af vilde dyr, lå i underbevidstheden. Nåh pyha, det var bare Mark som i det samme råbte: "Skynd jer ud hvis I vil se elefanter." Alle tumlede ud af soveposer og telte. Var det virkelig muligt?
Jo, det var elefanterne. De havde forladt skoven lige ved siden af vores lejr, og var på vej ud i floden, for at søge over til den anden bred. Det var næsten ufatteligt, eller var det virkelig almindeligt at se så mange vilde dyr på en kanofærd, og det uden vi endnu har besøgt nogen nationalpark - er der virkelig så mange dyr i Afrika?
Langt ude i floden udfoldede et underligt sceneri sig, hvor 6 - 7 elefanter nærmest opførte en hoppedans. Dave forklarede, at det rent faktisk var hvad elefanterne gjorde, når vandet blev dybt. De hopper fra flodbunden op og ned og frem, imens snablen stikkes i vejret som en snorkel. Jeg syntes det var det smukkeste syn jeg kunne drømme om at se, en tidlig morgen kl. 5.30 midt ude i Zambezi-floden.
Kaffevandet blev kogt over resterne af lejrbålet. Morgenmaden blev indtaget, teltene taget ned, og kanoerne pakket igen til den videre færd - og den blev hård. Vinden havde taget til, og alle var dybt koncentrerede, ingen havde lyst til at havne i floden, som frokostret for en af de sultne krokodiller vi passerede, eller som legekammerat for en flodhest, vi selvfølgelig også så flere af i dag.
Sandt at sige, var det en meget træt gruppe, der nåede frem til opsamlingsstedet ca. 35 km fra hvor vi startede i går, og hvor en bil ventede på at transportere os videre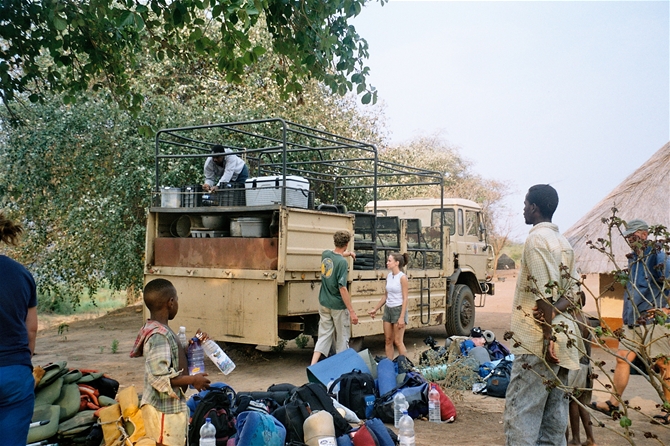 Alt bagagen blev smidt på ladet, og så gik turen tilbage til kanocenteret, ad hullede jordveje og forbi mindre landsbyer. "Asanti sana" lød det fra os alle til vores zambianske førere. "Mange tak," I har givet os et par dages fantastiske oplevelser - og vi overlevede.
Den videre færd foregik i vores egen truck, indtil vi nåede hovedstaden Lusaka. En moderne storby, hvor vi provianterede i et forretningscenter, der ligeså godt kunne have ligget i Europa, såvel som den velstillede befolkningsgruppe i byen, der gik moderne og europæisk klædt.
Vi skulle videre til vores næste lejrsted, og åh… hvor det var pragtfuldt at få et rigtigt brusebad. Toogtyve mennesker flokkedes om to baderum, på den lille simple camp. Hvor varmt vand og et bad, pludselig oplevedes og føltes som en luksus.