Strict Standards

: Only variables should be assigned by reference in

/var/www/devantier.nu/public_html/wp-includes/functions.php

on line

590

&laquo

Fre 11.okt. 2002

Lør 12.okt. 2002

Strict Standards

: Only variables should be assigned by reference in

/var/www/devantier.nu/public_html/wp-includes/functions.php

on line

590 Søn 13.okt. 2002

»
Postet december 19th, 2006, af Birgitte Devantier
Deprecated
: preg_replace() [
function.preg-replace
]: The /e modifier is deprecated, use preg_replace_callback instead in
/var/www/devantier.nu/public_html/wp-includes/functions-formatting.php
on line
76
Strict Standards
: Only variables should be assigned by reference in
/var/www/devantier.nu/public_html/wp-includes/functions.php
on line
590
Strict Standards
: Only variables should be assigned by reference in
/var/www/devantier.nu/public_html/wp-includes/functions.php
on line
590
Strict Standards
: Only variables should be assigned by reference in
/var/www/devantier.nu/public_html/wp-includes/functions.php
on line
590
Strict Standards
: Only variables should be assigned by reference in
/var/www/devantier.nu/public_html/wp-includes/functions.php
on line
590
Strict Standards
: Only variables should be assigned by reference in
/var/www/devantier.nu/public_html/wp-includes/functions.php
on line
590
Strict Standards
: Only variables should be assigned by reference in
/var/www/devantier.nu/public_html/wp-includes/functions.php
on line
590
Strict Standards
: Only variables should be assigned by reference in
/var/www/devantier.nu/public_html/wp-includes/functions.php
on line
590
Strict Standards
: Only variables should be assigned by reference in
/var/www/devantier.nu/public_html/wp-includes/functions.php
on line
590
Strict Standards
: Only variables should be assigned by reference in
/var/www/devantier.nu/public_html/wp-includes/functions.php
on line
590
Strict Standards
: Only variables should be assigned by reference in
/var/www/devantier.nu/public_html/wp-includes/functions.php
on line
590
Strict Standards
: Only variables should be assigned by reference in
/var/www/devantier.nu/public_html/wp-includes/functions.php
on line
590
Strict Standards
: Only variables should be assigned by reference in
/var/www/devantier.nu/public_html/wp-includes/functions.php
on line
590
Strict Standards
: Only variables should be assigned by reference in
/var/www/devantier.nu/public_html/wp-includes/functions.php
on line
590
Strict Standards
: Only variables should be assigned by reference in
/var/www/devantier.nu/public_html/wp-includes/functions.php
on line
590
Strict Standards
: Only variables should be assigned by reference in
/var/www/devantier.nu/public_html/wp-includes/functions.php
on line
590
Strict Standards
: Only variables should be assigned by reference in
/var/www/devantier.nu/public_html/wp-includes/functions.php
on line
590
Strict Standards
: Only variables should be assigned by reference in
/var/www/devantier.nu/public_html/wp-includes/functions.php
on line
590
Strict Standards
: Only variables should be assigned by reference in
/var/www/devantier.nu/public_html/wp-includes/functions.php
on line
590
Strict Standards
: Only variables should be assigned by reference in
/var/www/devantier.nu/public_html/wp-includes/functions.php
on line
590
Strict Standards
: Only variables should be assigned by reference in
/var/www/devantier.nu/public_html/wp-includes/functions.php
on line
590
Strict Standards
: Only variables should be assigned by reference in
/var/www/devantier.nu/public_html/wp-includes/functions.php
on line
590
Strict Standards
: Only variables should be assigned by reference in
/var/www/devantier.nu/public_html/wp-includes/functions.php
on line
590
Strict Standards
: Only variables should be assigned by reference in
/var/www/devantier.nu/public_html/wp-includes/functions.php
on line
590
Strict Standards
: Only variables should be assigned by reference in
/var/www/devantier.nu/public_html/wp-includes/functions.php
on line
590
Strict Standards
: Only variables should be assigned by reference in
/var/www/devantier.nu/public_html/wp-includes/functions.php
on line
590
Strict Standards
: Only variables should be assigned by reference in
/var/www/devantier.nu/public_html/wp-includes/functions.php
on line
590
Strict Standards
: Only variables should be assigned by reference in
/var/www/devantier.nu/public_html/wp-includes/functions.php
on line
590
Strict Standards
: Only variables should be assigned by reference in
/var/www/devantier.nu/public_html/wp-includes/functions.php
on line
590
Strict Standards
: Only variables should be assigned by reference in
/var/www/devantier.nu/public_html/wp-includes/functions.php
on line
590
Strict Standards
: Only variables should be assigned by reference in
/var/www/devantier.nu/public_html/wp-includes/functions.php
on line
590
Strict Standards
: Only variables should be assigned by reference in
/var/www/devantier.nu/public_html/wp-includes/functions.php
on line
590
Strict Standards
: Only variables should be assigned by reference in
/var/www/devantier.nu/public_html/wp-includes/functions.php
on line
590
Strict Standards
: Only variables should be assigned by reference in
/var/www/devantier.nu/public_html/wp-includes/functions.php
on line
590
Strict Standards
: Only variables should be assigned by reference in
/var/www/devantier.nu/public_html/wp-includes/functions.php
on line
590
Strict Standards
: Only variables should be assigned by reference in
/var/www/devantier.nu/public_html/wp-includes/functions.php
on line
590
Strict Standards
: Only variables should be assigned by reference in
/var/www/devantier.nu/public_html/wp-includes/functions.php
on line
590
Der var godt nok mange der fik sig en overraskelse, da de stod op og hørte beretningen om nattens hændelser. Ikke mindst Mark og Dave, da de så hvordan alting flød omkring trucken. Nåh, men der skulle ryddes op, laves mad og pakkes, vi skulle af sted mod nye mål, og vi rullede ud af campen ved syvtiden.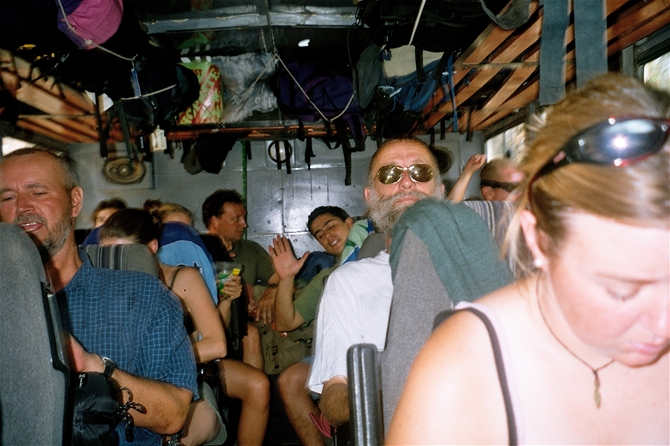 Det blev en hård transportdag, kun ¼ af turen blev tilbagelagt på asfaltvej, resten var på jord og grusveje, hvor der lå et tommetykt løst lag støv. Det meste hvirvledes op bag os, hvorfor det værste selvfølgelig var, når vi mødte de modkørende. "Luk vinduerne" råbte de forreste hver gang de så en lastbil komme imod os. Klik-klik-klik lød det ned igennem trucken for hvert skydevindue der blev skubbet i, og alligevel blev alt bagage, sæder, plus os selv, mere og mere støvede som dagen skred frem.
Landskabet og omgivelserne ændrede sig, det virkede som om man havde lidt mere råd til at dyrke jorden i Malawi end i Zambia. Vi så oftere huse, de fleste små ganske vidst, være bygget af brændte sten. Men også de lerklinede huse ændrede byggestil. Det var ikke runde lerhytter længere, men oftest rektangulære, hvor de fleste havde en forhøjning langs soklen hele vejen rundt, som vi ofte så blev benyttet til at sidde på. Tagene var selvfølgelig forsat belagt med strå eller græs, hvis ikke det engang imellem var et bliktag.
Det er egentlig mærkeligt, men jeg havde gjort mig forestillinger om at Afrika var meget mere øde, tørt og med langt færre træer. Jo ind imellem kører vi lange øde strækninger, og alligevel ser man en lille landsby dukke op hist pist, ja til tider måske bare en enkelt hytte. Der er langt imellem vandpumperne, og vi regisrerer de lange strækninger kvinderne går med deres spande eller dunke på hovedet.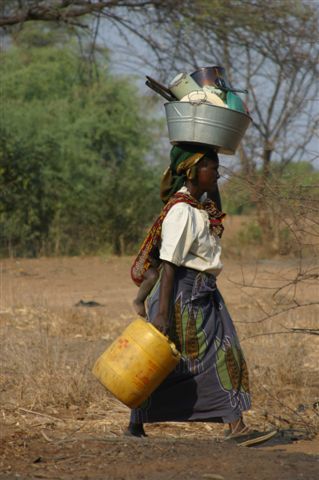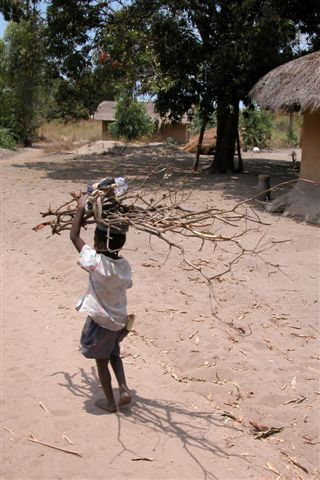 Vi blev fortalt, at kun cirka halvdelen af befolkningen havde arbejde, og at lønnen for en ganske almindelig arbejder lå omkring 800 -1000 kwacha om måneden, altså ca.120 danske kroner. Befolkningen har masser af daglige problemer, fattigdom, sygdom, m.v. og jeg synes derfor det er fantastisk beundringsværdigt, ja næsten uforståeligt, hvordan de fleste alligevel bevarer den livsglæde som de udstråler.
Vi passerede over floder, og ad simple træbroer der lignede noget der var løgn. Kan de virkelig bære en tung truck? Før man nåede at tænke videre, var man såmænd allerede ovre. Men en af gangene var vi trods alt tæt på at miste noget af vores bagage. Det bumpede så voldsomt da vi kørte over en bro, at tagkasserne med låg hvori vores telte og vores liggeunderlag lå, sprang op og en del af bagagen røg ud.
Heldigvis gik der folk ved broen, som piftede og vinkede, og Rob den ene af australierne, hørte det som den eneste og kiggede bagud. Pyha, det var heldigt. De lokale grinede, og kom hjælpsomme springende med vores ting. "Asanti" råbte vi - tak - før vi atter rullede videre.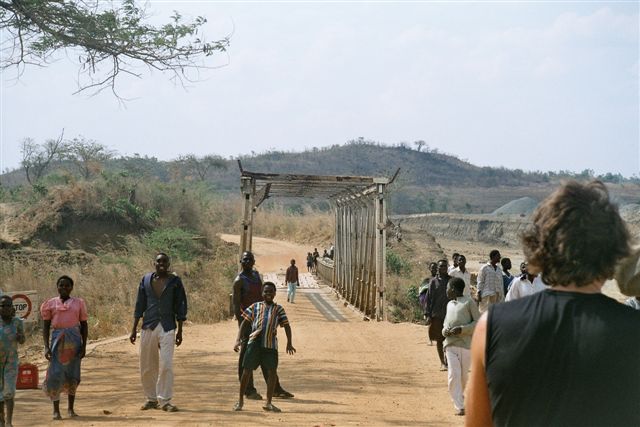 Efter endnu nogen kørsel stoppede Dave pludselig op, hvad nu havde vi tabt noget igen? Da var det vi fik øje på et simpelt træskilt der var sat op ved grusvejen, "In the memery of an onknown woman, killed by a lion - 8. januar 2002." En lille påmindelse, og så var det for øvrigt ikke lige dér, der blev ønsket tissepause.
Det var en meget lang dag - 600 km. Vi kørte til langt efter mørkets frembrud, før vi nåede vores nye camp, hvor vi slog vores telte op i sandet tæt ved bredden af Lake Malawi
Aaah… hvor vidunderligt. Vinden blæste ind fra søen, og der var en dejlig behagelig temperatur, hvis man spurgte en dansker. Vi spiste aftensmad ved 22-tiden, og så må jeg sige tingene udviklede sig til en gevaldig fest i hele gruppen.
Måske det var under indflydelse af at vi vidste, her skulle vi overnatte de næste tre nætter. Måske var det fordi vi havde oplevet så meget de sidste dage, vildt spændende ting. Eller at vi næsten konstant havde været på farten, at reaktionen og den impulsive lyst til at feste igennem opstod - og den fik sandelig ikke for lidt skulle jeg hilse og sige.
F.eks. tømte fire danskere en hel flaske cognac - jeg siger ikke hvem, og da de samme fire fandt ud af man også kunne købe Carlsberg øl i baren, gik det da helt galt. Vi blev ærlig og redelig kanonfulde, og det er næsten for pinligt at fortælle hvem der syntes det var aldeles skægt, og helt ustyrlig morsomt at flytte rundt på fremmede folks telte.