Strict Standards

: Only variables should be assigned by reference in

/var/www/devantier.nu/public_html/wp-includes/functions.php

on line

590

&laquo

Ons 2.okt 2002

Tor 3.okt. 2002

Strict Standards

: Only variables should be assigned by reference in

/var/www/devantier.nu/public_html/wp-includes/functions.php

on line

590 Fre 4.okt. 2002

»
Postet december 18th, 2006, af Birgitte Devantier
Deprecated
: preg_replace() [
function.preg-replace
]: The /e modifier is deprecated, use preg_replace_callback instead in
/var/www/devantier.nu/public_html/wp-includes/functions-formatting.php
on line
76
Strict Standards
: Only variables should be assigned by reference in
/var/www/devantier.nu/public_html/wp-includes/functions.php
on line
590
Strict Standards
: Only variables should be assigned by reference in
/var/www/devantier.nu/public_html/wp-includes/functions.php
on line
590
Strict Standards
: Only variables should be assigned by reference in
/var/www/devantier.nu/public_html/wp-includes/functions.php
on line
590
Strict Standards
: Only variables should be assigned by reference in
/var/www/devantier.nu/public_html/wp-includes/functions.php
on line
590
Strict Standards
: Only variables should be assigned by reference in
/var/www/devantier.nu/public_html/wp-includes/functions.php
on line
590
Strict Standards
: Only variables should be assigned by reference in
/var/www/devantier.nu/public_html/wp-includes/functions.php
on line
590
Strict Standards
: Only variables should be assigned by reference in
/var/www/devantier.nu/public_html/wp-includes/functions.php
on line
590
Strict Standards
: Only variables should be assigned by reference in
/var/www/devantier.nu/public_html/wp-includes/functions.php
on line
590
Strict Standards
: Only variables should be assigned by reference in
/var/www/devantier.nu/public_html/wp-includes/functions.php
on line
590
Strict Standards
: Only variables should be assigned by reference in
/var/www/devantier.nu/public_html/wp-includes/functions.php
on line
590
Strict Standards
: Only variables should be assigned by reference in
/var/www/devantier.nu/public_html/wp-includes/functions.php
on line
590
Strict Standards
: Only variables should be assigned by reference in
/var/www/devantier.nu/public_html/wp-includes/functions.php
on line
590
Strict Standards
: Only variables should be assigned by reference in
/var/www/devantier.nu/public_html/wp-includes/functions.php
on line
590
Strict Standards
: Only variables should be assigned by reference in
/var/www/devantier.nu/public_html/wp-includes/functions.php
on line
590
Strict Standards
: Only variables should be assigned by reference in
/var/www/devantier.nu/public_html/wp-includes/functions.php
on line
590
Strict Standards
: Only variables should be assigned by reference in
/var/www/devantier.nu/public_html/wp-includes/functions.php
on line
590
Strict Standards
: Only variables should be assigned by reference in
/var/www/devantier.nu/public_html/wp-includes/functions.php
on line
590
Strict Standards
: Only variables should be assigned by reference in
/var/www/devantier.nu/public_html/wp-includes/functions.php
on line
590
Strict Standards
: Only variables should be assigned by reference in
/var/www/devantier.nu/public_html/wp-includes/functions.php
on line
590
Strict Standards
: Only variables should be assigned by reference in
/var/www/devantier.nu/public_html/wp-includes/functions.php
on line
590
Strict Standards
: Only variables should be assigned by reference in
/var/www/devantier.nu/public_html/wp-includes/functions.php
on line
590
Strict Standards
: Only variables should be assigned by reference in
/var/www/devantier.nu/public_html/wp-includes/functions.php
on line
590
Strict Standards
: Only variables should be assigned by reference in
/var/www/devantier.nu/public_html/wp-includes/functions.php
on line
590
Strict Standards
: Only variables should be assigned by reference in
/var/www/devantier.nu/public_html/wp-includes/functions.php
on line
590
Strict Standards
: Only variables should be assigned by reference in
/var/www/devantier.nu/public_html/wp-includes/functions.php
on line
590
Strict Standards
: Only variables should be assigned by reference in
/var/www/devantier.nu/public_html/wp-includes/functions.php
on line
590
Strict Standards
: Only variables should be assigned by reference in
/var/www/devantier.nu/public_html/wp-includes/functions.php
on line
590
Strict Standards
: Only variables should be assigned by reference in
/var/www/devantier.nu/public_html/wp-includes/functions.php
on line
590
Strict Standards
: Only variables should be assigned by reference in
/var/www/devantier.nu/public_html/wp-includes/functions.php
on line
590
Strict Standards
: Only variables should be assigned by reference in
/var/www/devantier.nu/public_html/wp-includes/functions.php
on line
590
Strict Standards
: Only variables should be assigned by reference in
/var/www/devantier.nu/public_html/wp-includes/functions.php
on line
590
Strict Standards
: Only variables should be assigned by reference in
/var/www/devantier.nu/public_html/wp-includes/functions.php
on line
590
Strict Standards
: Only variables should be assigned by reference in
/var/www/devantier.nu/public_html/wp-includes/functions.php
on line
590
Strict Standards
: Only variables should be assigned by reference in
/var/www/devantier.nu/public_html/wp-includes/functions.php
on line
590
Strict Standards
: Only variables should be assigned by reference in
/var/www/devantier.nu/public_html/wp-includes/functions.php
on line
590
Strict Standards
: Only variables should be assigned by reference in
/var/www/devantier.nu/public_html/wp-includes/functions.php
on line
590
Pyha, det var en heftig sag at køre bus hele natten, også selv om vi periodisk fik en blunder. Bag os sad en farvet underholdende familie på fem, der højlydt og livligt talte og grinede sammen den halve nat. Og den ene af dem må have været næsten totalt døv, for han spillede så høj musik, "tjum di di bom, doing doing," at lyden fra hans høretelefoner, kunne høres i hvert fald fire sæder frem.
Foran os var et par stille sydafrikanske hvide kvinder, til gengæld sad der på sædet ved siden af dem to livlige unger, og direkte til højre for os, et farvet talende vandfald. Han havde allerede delt brochurer ud til de fleste af os, hvor han gjorde reklame for sin kirke, og indimellem måtte han også lige prise Herren med en sang. Det var i sandhed en noget speciel oplevelse, set i bakspejlet munter på trods af jeg selv havde et par timer med "Sant Veitsdans." Tyve timer tog det, før vi ankom til Sydafrikas hovedstad Pretoria. Måske uretfærdigt, men hvor førstehåndsindtrykket, var en stor og lidt kedelig by.
Vi fik ringet fra hovedbanegården til et backpackersted, hvorfra (som vi har lært det), de kom og hentede os. Stedet var da OK, men ikke så charmerende som de andre steder vi har boet. Nå men vi stillede rygsækkene fra os, og blev orienteret om, hvor vi kunne tage bussen ind til centrum, og blev samtidig påmindet om endelig at være forsigtige og retur før mørkets frembrud. "Det er farligt for hvide, især i centrum. Husk I er i Sydafrika," lød de formanende ord. Jo tak det havde vi lært. "Men bare rolig vi bor i et sikkert område," sluttede han af. Det var vi slet ikke i tvivl om da vi gik. Ikke ét hus lå ubeskyttet, uden der var gitter omkring vinduer og døre, pigtråd eller hegn, samt store skilte der reklamerede om privat vagtværn.
Vi travede byen tynd. Én af de ting jeg havde glædet mig specielt til at se i Pretoria, var de hen ved 80.000 smukke jacaranda-træer som blomstrer lavendelblå på denne årstid. Faktisk er byen berømmet for dette syn. Men desværre pga. mangel på regn, var kun en brøkdel sprunget ud.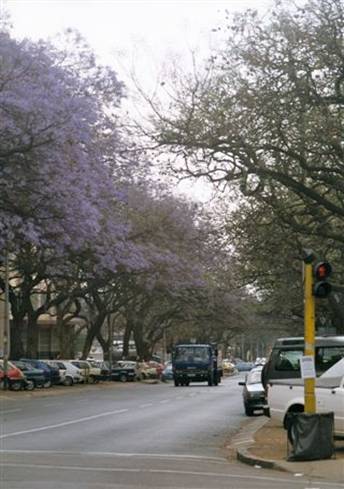 Efter at have set parlamentet og travet de omkring liggende gader tynde, blev det tid at afslutte dagens sightseeing, og imens vi på et trafikeret hjørne afventede busforbindelsen, var det sigende hvorledes tilværelsen formede sig i hovedstaden. Klokken var henved 17.00, næsten alle på gaden var farvede, mens alle dem der sad i bilerne og kørte ud af byen var hvide.
Heldigvis havde vi nået at handle ind til aftensmad, og sammen med familiens husmor, tilberedte vi hvert vores aftensmåltid i køkkenet. Vi sludrede om lidt af hvert, men især gjorde hun en dyd ud af at fortælle mig, hvordan hun syntes pressen gjorde racehadet i Sydafrika meget værre end det var. Hun var lærer på en skole, hvor sorte og hvide gik sammen. "No problems." Jeg syntes nu nok hendes beskrivelser af livet i Sydafrika, virkede lige lovlig romantiske, når jeg tænkte på de hvides private forskansning.
Manden fortalte, at de havde en lille farm i det gamle Zululand, og at den unge neger som boede i huset også var zulu, og i øvrigt havde arbejdet for familien i 16 år. Han lignede ikke en der var meget over de tyve, så I mit stille sind spekulerede jeg på, om han havde været meget mere end 5 - 6 år da hans arbejdsliv begyndte. No problems - for hvem?