Strict Standards

: Only variables should be assigned by reference in

/var/www/devantier.nu/public_html/wp-includes/functions.php

on line

590

&laquo

Lør 28.sep. 2002

Søn 29.sep. 2002

Strict Standards

: Only variables should be assigned by reference in

/var/www/devantier.nu/public_html/wp-includes/functions.php

on line

590 Man 30.sep. 2002

»
Postet december 18th, 2006, af Birgitte Devantier
Deprecated
: preg_replace() [
function.preg-replace
]: The /e modifier is deprecated, use preg_replace_callback instead in
/var/www/devantier.nu/public_html/wp-includes/functions-formatting.php
on line
76
Strict Standards
: Only variables should be assigned by reference in
/var/www/devantier.nu/public_html/wp-includes/functions.php
on line
590
Strict Standards
: Only variables should be assigned by reference in
/var/www/devantier.nu/public_html/wp-includes/functions.php
on line
590
Strict Standards
: Only variables should be assigned by reference in
/var/www/devantier.nu/public_html/wp-includes/functions.php
on line
590
Strict Standards
: Only variables should be assigned by reference in
/var/www/devantier.nu/public_html/wp-includes/functions.php
on line
590
Strict Standards
: Only variables should be assigned by reference in
/var/www/devantier.nu/public_html/wp-includes/functions.php
on line
590
Strict Standards
: Only variables should be assigned by reference in
/var/www/devantier.nu/public_html/wp-includes/functions.php
on line
590
Strict Standards
: Only variables should be assigned by reference in
/var/www/devantier.nu/public_html/wp-includes/functions.php
on line
590
Strict Standards
: Only variables should be assigned by reference in
/var/www/devantier.nu/public_html/wp-includes/functions.php
on line
590
Strict Standards
: Only variables should be assigned by reference in
/var/www/devantier.nu/public_html/wp-includes/functions.php
on line
590
Strict Standards
: Only variables should be assigned by reference in
/var/www/devantier.nu/public_html/wp-includes/functions.php
on line
590
Strict Standards
: Only variables should be assigned by reference in
/var/www/devantier.nu/public_html/wp-includes/functions.php
on line
590
Strict Standards
: Only variables should be assigned by reference in
/var/www/devantier.nu/public_html/wp-includes/functions.php
on line
590
Strict Standards
: Only variables should be assigned by reference in
/var/www/devantier.nu/public_html/wp-includes/functions.php
on line
590
Strict Standards
: Only variables should be assigned by reference in
/var/www/devantier.nu/public_html/wp-includes/functions.php
on line
590
Strict Standards
: Only variables should be assigned by reference in
/var/www/devantier.nu/public_html/wp-includes/functions.php
on line
590
Strict Standards
: Only variables should be assigned by reference in
/var/www/devantier.nu/public_html/wp-includes/functions.php
on line
590
Strict Standards
: Only variables should be assigned by reference in
/var/www/devantier.nu/public_html/wp-includes/functions.php
on line
590
Strict Standards
: Only variables should be assigned by reference in
/var/www/devantier.nu/public_html/wp-includes/functions.php
on line
590
Strict Standards
: Only variables should be assigned by reference in
/var/www/devantier.nu/public_html/wp-includes/functions.php
on line
590
Strict Standards
: Only variables should be assigned by reference in
/var/www/devantier.nu/public_html/wp-includes/functions.php
on line
590
Strict Standards
: Only variables should be assigned by reference in
/var/www/devantier.nu/public_html/wp-includes/functions.php
on line
590
Strict Standards
: Only variables should be assigned by reference in
/var/www/devantier.nu/public_html/wp-includes/functions.php
on line
590
Strict Standards
: Only variables should be assigned by reference in
/var/www/devantier.nu/public_html/wp-includes/functions.php
on line
590
Strict Standards
: Only variables should be assigned by reference in
/var/www/devantier.nu/public_html/wp-includes/functions.php
on line
590
Strict Standards
: Only variables should be assigned by reference in
/var/www/devantier.nu/public_html/wp-includes/functions.php
on line
590
Strict Standards
: Only variables should be assigned by reference in
/var/www/devantier.nu/public_html/wp-includes/functions.php
on line
590
Strict Standards
: Only variables should be assigned by reference in
/var/www/devantier.nu/public_html/wp-includes/functions.php
on line
590
Strict Standards
: Only variables should be assigned by reference in
/var/www/devantier.nu/public_html/wp-includes/functions.php
on line
590
Strict Standards
: Only variables should be assigned by reference in
/var/www/devantier.nu/public_html/wp-includes/functions.php
on line
590
Strict Standards
: Only variables should be assigned by reference in
/var/www/devantier.nu/public_html/wp-includes/functions.php
on line
590
Strict Standards
: Only variables should be assigned by reference in
/var/www/devantier.nu/public_html/wp-includes/functions.php
on line
590
Strict Standards
: Only variables should be assigned by reference in
/var/www/devantier.nu/public_html/wp-includes/functions.php
on line
590
Strict Standards
: Only variables should be assigned by reference in
/var/www/devantier.nu/public_html/wp-includes/functions.php
on line
590
Strict Standards
: Only variables should be assigned by reference in
/var/www/devantier.nu/public_html/wp-includes/functions.php
on line
590
Strict Standards
: Only variables should be assigned by reference in
/var/www/devantier.nu/public_html/wp-includes/functions.php
on line
590
Strict Standards
: Only variables should be assigned by reference in
/var/www/devantier.nu/public_html/wp-includes/functions.php
on line
590
Uha, om vi havde vidst hvad denne dag bød. Efter at have spist morgenmad, vasket op og pakket, forlod vi bungalowen ved 9-tiden. Vandrede ad den vej vi havde gået de sidste par dage, og bemærkede igen de unge som ældre "streetboys," gadebørnene. Ak ja, sørgeligt og trist, der er virkelig forskel på rig og fattig i Cape Towns gadebillede. Et par streetboys blev temmelig nærgående og selv om det i første omgang tilsyneladende lykkedes os at få dem på afstand, fornemmede jeg der var noget riv- rav- ruskende galt: "Morten, vi må have fat på en taxa."
Der gik ikke to minutter, ingen taxa passerede og ingen var at se i miles omkreds, men tre gadedrenge mere kom løbende til, og sammenlagt var de pludselig fem unge der omringede os. Vi råbte op så højt vi kunne, holdt fast i hvad vi havde, og alligevel lykkedes det dem at vælte Morten omkuld, flå hans vest i stykker, måske i håbet om at finde hans pung, men i stedet faldt telelinsen til hans kamera ud. Jeg skreg og sparkede, og Morten fik helt grotesk kravlet hen og opsamlet sin linse der trillede hen ad fortovet. I kampens hede stak de pludselig af, jeg tror der var nogle beboere i en nærliggende husblok der hørte os og råbte op, og i forvirringen løb Morten og jeg alt hvad vi kunne over til en tankstation på den anden side af gaden.
Temmelig rystede og chokerede søgte vi tilflugt inde i butikken, hvor vi bad dem være os behjælpelige med at ringe efter en taxa. Jo, det ville de da godt. "I kan bare stille jer ud, den kommer lige om lidt." Næh tak, vi skulle ikke uden for en dør. Jeg kunne igennem butiksruden se flokken der havde overfaldet os, stå og iagttage os længere nede ad gaden. Den yngste omkring 14 - 15 år, de andre noget ældre. Vi forklarede tankpasseren om situationen, og han var heldigvis forstående nok.
Taxaen kom og kørte os de sidste 5 - 10 minutter til biludlejningen. For pokker hvor var vi chokerede, og ved nærmere eftertanke kunne vi da godt se, vi havde været håbløst naive. Der havde jo ikke været andre "hvide" at se på strækningen, i det hele taget ikke mange mennesker. Det var jo søndag og alt for tidligt at færdes på gaden. Vi havde fokuseret på at det kun var når det var mørkt det var farligt at færdes ude - men nu ved vi bedre. Også hvorfor ejeren vi havde boet hos, havde tilbudt at hente os "downtown," den første dag vi ankom til Cape Town. Det er almindelig kotume i Sydafrika, at man henter sine gæster ved tog- og busstationer, flypladser m.m.
Det er simpelthen for farligt og gå på gaden med en stor rygsæk. Du signalerer du har alle dine værdier med dig. Derfor - især i Cape Town, men også andre større byer. 1: Gå ikke på gaden med stor rygsæk/oppakning. 2: Gå ikke på gaden tidligt om morgenen, eller efter mørkets frembrud. 3: Gå kun hvor andre "hvide" færdes.
Hvor stor kriminaliteten reelt var, gik egentlig først op for os, da vi efter at være kommet hjem, læste disse linjer i en avisartikel. "Sydafrikas største problem i dag er det stigende antal voldsforbrydelser. En kvart million husstande har indbrud, og mere end 23.000 mennesker bliver myrdet, hvilket medfører en af de højeste mord-rater i verden."
Nåh da da - og nok om det. Meldte overfaldet på en politistation, at forsikringen kunne dække det iturevne tøj og telelinsen. Kørte ud af Cape Town, forbi endnu en af de fattige township's og videre op ad østkysten.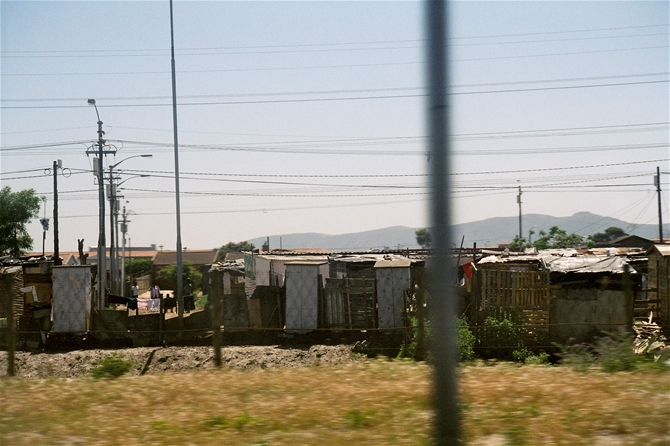 Er nået til Hermanus. Byen der er betegnet som et af de bedste spots i verdenen ønsker man at se hvaler, og netop nu på denne årstid skulle chancerne være de bedste, fordi hvalerne har fået unger og svømmer helt tæt til kysten.
Vælger at tro vores lykke er vendt, i hvert fald endte dagen mere heldigt, idet vi så det smukke syn af ikke mindre end fem hvaler ude i bugten. En noget modsætningsfyldt dag må man sige, hvor vi godt kunne have undværet begyndelsen.