Strict Standards

: Only variables should be assigned by reference in

/var/www/devantier.nu/public_html/wp-includes/functions.php

on line

590

&laquo

Tir 1.okt. 2002

Ons 2.okt 2002

Strict Standards

: Only variables should be assigned by reference in

/var/www/devantier.nu/public_html/wp-includes/functions.php

on line

590 Tor 3.okt. 2002

»
Postet december 18th, 2006, af Birgitte Devantier
Deprecated
: preg_replace() [
function.preg-replace
]: The /e modifier is deprecated, use preg_replace_callback instead in
/var/www/devantier.nu/public_html/wp-includes/functions-formatting.php
on line
76
Strict Standards
: Only variables should be assigned by reference in
/var/www/devantier.nu/public_html/wp-includes/functions.php
on line
590
Strict Standards
: Only variables should be assigned by reference in
/var/www/devantier.nu/public_html/wp-includes/functions.php
on line
590
Strict Standards
: Only variables should be assigned by reference in
/var/www/devantier.nu/public_html/wp-includes/functions.php
on line
590
Strict Standards
: Only variables should be assigned by reference in
/var/www/devantier.nu/public_html/wp-includes/functions.php
on line
590
Strict Standards
: Only variables should be assigned by reference in
/var/www/devantier.nu/public_html/wp-includes/functions.php
on line
590
Strict Standards
: Only variables should be assigned by reference in
/var/www/devantier.nu/public_html/wp-includes/functions.php
on line
590
Strict Standards
: Only variables should be assigned by reference in
/var/www/devantier.nu/public_html/wp-includes/functions.php
on line
590
Strict Standards
: Only variables should be assigned by reference in
/var/www/devantier.nu/public_html/wp-includes/functions.php
on line
590
Strict Standards
: Only variables should be assigned by reference in
/var/www/devantier.nu/public_html/wp-includes/functions.php
on line
590
Strict Standards
: Only variables should be assigned by reference in
/var/www/devantier.nu/public_html/wp-includes/functions.php
on line
590
Strict Standards
: Only variables should be assigned by reference in
/var/www/devantier.nu/public_html/wp-includes/functions.php
on line
590
Strict Standards
: Only variables should be assigned by reference in
/var/www/devantier.nu/public_html/wp-includes/functions.php
on line
590
Strict Standards
: Only variables should be assigned by reference in
/var/www/devantier.nu/public_html/wp-includes/functions.php
on line
590
Strict Standards
: Only variables should be assigned by reference in
/var/www/devantier.nu/public_html/wp-includes/functions.php
on line
590
Strict Standards
: Only variables should be assigned by reference in
/var/www/devantier.nu/public_html/wp-includes/functions.php
on line
590
Strict Standards
: Only variables should be assigned by reference in
/var/www/devantier.nu/public_html/wp-includes/functions.php
on line
590
Strict Standards
: Only variables should be assigned by reference in
/var/www/devantier.nu/public_html/wp-includes/functions.php
on line
590
Strict Standards
: Only variables should be assigned by reference in
/var/www/devantier.nu/public_html/wp-includes/functions.php
on line
590
Strict Standards
: Only variables should be assigned by reference in
/var/www/devantier.nu/public_html/wp-includes/functions.php
on line
590
Strict Standards
: Only variables should be assigned by reference in
/var/www/devantier.nu/public_html/wp-includes/functions.php
on line
590
Strict Standards
: Only variables should be assigned by reference in
/var/www/devantier.nu/public_html/wp-includes/functions.php
on line
590
Strict Standards
: Only variables should be assigned by reference in
/var/www/devantier.nu/public_html/wp-includes/functions.php
on line
590
Strict Standards
: Only variables should be assigned by reference in
/var/www/devantier.nu/public_html/wp-includes/functions.php
on line
590
Strict Standards
: Only variables should be assigned by reference in
/var/www/devantier.nu/public_html/wp-includes/functions.php
on line
590
Strict Standards
: Only variables should be assigned by reference in
/var/www/devantier.nu/public_html/wp-includes/functions.php
on line
590
Strict Standards
: Only variables should be assigned by reference in
/var/www/devantier.nu/public_html/wp-includes/functions.php
on line
590
Strict Standards
: Only variables should be assigned by reference in
/var/www/devantier.nu/public_html/wp-includes/functions.php
on line
590
Strict Standards
: Only variables should be assigned by reference in
/var/www/devantier.nu/public_html/wp-includes/functions.php
on line
590
Strict Standards
: Only variables should be assigned by reference in
/var/www/devantier.nu/public_html/wp-includes/functions.php
on line
590
Strict Standards
: Only variables should be assigned by reference in
/var/www/devantier.nu/public_html/wp-includes/functions.php
on line
590
Strict Standards
: Only variables should be assigned by reference in
/var/www/devantier.nu/public_html/wp-includes/functions.php
on line
590
Strict Standards
: Only variables should be assigned by reference in
/var/www/devantier.nu/public_html/wp-includes/functions.php
on line
590
Strict Standards
: Only variables should be assigned by reference in
/var/www/devantier.nu/public_html/wp-includes/functions.php
on line
590
Strict Standards
: Only variables should be assigned by reference in
/var/www/devantier.nu/public_html/wp-includes/functions.php
on line
590
Strict Standards
: Only variables should be assigned by reference in
/var/www/devantier.nu/public_html/wp-includes/functions.php
on line
590
Strict Standards
: Only variables should be assigned by reference in
/var/www/devantier.nu/public_html/wp-includes/functions.php
on line
590
Nu er der kun to dage til vi skal møde Ida og Per. Hvor bliver det dejligt og helt fantastisk, at skulle mødes midt i AFRIKA. Nå, men vi aftalte med Albergo, at vores rygsække kunne være låst inde i kolonialrummet, så de kunne klargøre værelset vi havde overnattet i, til nogle andre. Vi skulle først rejse videre i eftermiddag, men havde lige en lille opgave at udrette først. Skulle inden kl. 9.00 nå at aflevere den lejede bil ved AVIS-kontoret.
Bagefter gik vi tilbage langs stranden, imens vi talte om den lille "dyt" og de 600-700 km den havde bragt os op ad østkysten. Det havde været en flot, spændende og interessant tur. Vi klatrede lidt op på nogle klipper for at få et bedre udsyn over hele bugten, og konstaterede hvor rart at stormen som alle talte om, endelig var ved at løje af.
Wauv, vi fik øje på en hval langt langt ude. Skulle vi spendere de 2 x 300 kr som vi havde set det kostede at tage på hval-cruise? Havde vi råd? Et lille kontor der annoncerede med at de var Sydafrikas eneste observationscenter, som havde speciel tilladelse til og sejle så tæt på som 50 meter fra hvalerne, var fristende - og måske en mulighed vi kun fik denne ene gang i vores liv? I midlertid måtte vi have garanti for at være retur senest kl. 14.30, så vi kunne nå bussen. Det mente de nok, hvorfor vi slet ikke kunne stå for fristelsen.
I en lille kutteragtig fladbundet pram med plads til 11 personer, blev vi af en truck skubbet fra sandstranden ud i vandet. Kaptajnen lå og ventede på den helt rigtige bølge, motoren blev speedet op i højeste gear, og det gik som i en rutschebane ud over brændingen. Så blev farten taget af båden, og vi tøffede af sted ud i bugten på vores livs hval-eventyr.
Det første der dukkede op, var en flok nysgerrige delfiner der sprang omkring båden. En smuk oplevelse i modsætning til sælkolonien, der som det næste blev en morsom oplevelse. De lå og rullede rundt i vandskorpen og - ja, det er jeg da helt sikker på, vinkede til os med deres luffer.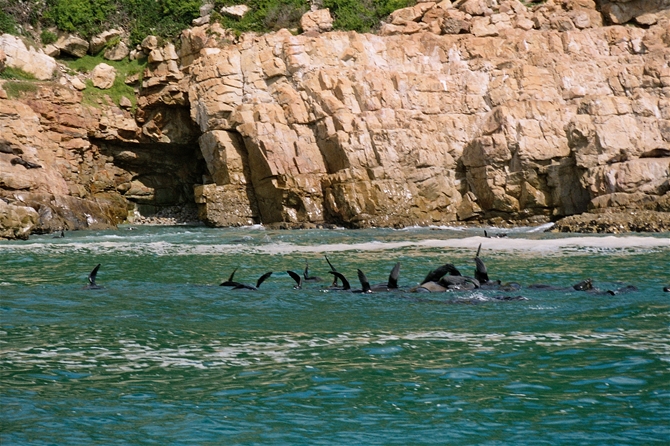 Vi sejlede tværs over den store bugt, og imens spændingen steg holdt alle udkik. Vi nærmede os det område, hvor Morten og jeg i formiddags havde set en hval, og det forunderlige skete. Skipper fik øje på en hel "lille" gruppe, tog retning, stoppede motoren, og ligeså stille gled vi hen imod dem.
Åh - hvor betagende. Der lå de i overfladen og rullede legesyge rundt, dykkede og prustede vand ud af deres åndehuller, så vinden blæste det over i hovedet på os. Vores båd der kun var 8 meter lang syntes meget meget lille, da hvalerne nysgerrigt kom nærmere og iagttog os - et øjeblik jeg forestiller mig, aldrig nogen sinde at kunne glemme.
Skipper advarede os imod at komme med høje udbrud, eller at blive forskrækkede hvis hvalerne kom til at røre båden. Det skete indimellem, forklarede han. Hvor var det fantastisk, man glemte næsten at trække vejret i bar betagelse. Tænk at blive forundt og opleve noget så stort. Pludselig dykkede den ene hval under vores båd, og vi kunne et splitsekund iagttage den på begge sider. Hovedet som en skygge under havoverfladen på den ene side og halen på den anden.
En stor kæmpe med "muslinger" på hovedet kom glidende forbi, og her taler vi om den kolossale Rethval på 17 meter, der vejer 60 tons. Wauv, vi lå som en lille fladbundet balje og vippede ved dens side, og syntes næsten vi kunne røre den. Rethvalen genkendes på sit V-formede åndehul, når den pruster vand ud.
Men også Humbuck-hvalerne observerede de engang imellem i bugten. Skipper fortalte, at den var næsten lige så stor, blot var dens finner lidt længere og slankere. Vi så den ikke, men til gengæld den sorte og hvide Southern right hval på bare et par meter. Nå ja "bare" er jo utroligt at skrive, for hvis ikke det havde været for kæmpehvalerne, ville jeg til hver en tid have ment en fisk på 2 meter var et overdådigt syn.