Strict Standards

: Only variables should be assigned by reference in

/var/www/devantier.nu/public_html/wp-includes/functions.php

on line

590

&laquo

Søn 29.sep. 2002

Man 30.sep. 2002

Strict Standards

: Only variables should be assigned by reference in

/var/www/devantier.nu/public_html/wp-includes/functions.php

on line

590 Tir 1.okt. 2002

»
Postet december 18th, 2006, af Birgitte Devantier
Deprecated
: preg_replace() [
function.preg-replace
]: The /e modifier is deprecated, use preg_replace_callback instead in
/var/www/devantier.nu/public_html/wp-includes/functions-formatting.php
on line
76
Strict Standards
: Only variables should be assigned by reference in
/var/www/devantier.nu/public_html/wp-includes/functions.php
on line
590
Strict Standards
: Only variables should be assigned by reference in
/var/www/devantier.nu/public_html/wp-includes/functions.php
on line
590
Strict Standards
: Only variables should be assigned by reference in
/var/www/devantier.nu/public_html/wp-includes/functions.php
on line
590
Strict Standards
: Only variables should be assigned by reference in
/var/www/devantier.nu/public_html/wp-includes/functions.php
on line
590
Strict Standards
: Only variables should be assigned by reference in
/var/www/devantier.nu/public_html/wp-includes/functions.php
on line
590
Strict Standards
: Only variables should be assigned by reference in
/var/www/devantier.nu/public_html/wp-includes/functions.php
on line
590
Strict Standards
: Only variables should be assigned by reference in
/var/www/devantier.nu/public_html/wp-includes/functions.php
on line
590
Strict Standards
: Only variables should be assigned by reference in
/var/www/devantier.nu/public_html/wp-includes/functions.php
on line
590
Strict Standards
: Only variables should be assigned by reference in
/var/www/devantier.nu/public_html/wp-includes/functions.php
on line
590
Strict Standards
: Only variables should be assigned by reference in
/var/www/devantier.nu/public_html/wp-includes/functions.php
on line
590
Strict Standards
: Only variables should be assigned by reference in
/var/www/devantier.nu/public_html/wp-includes/functions.php
on line
590
Strict Standards
: Only variables should be assigned by reference in
/var/www/devantier.nu/public_html/wp-includes/functions.php
on line
590
Strict Standards
: Only variables should be assigned by reference in
/var/www/devantier.nu/public_html/wp-includes/functions.php
on line
590
Strict Standards
: Only variables should be assigned by reference in
/var/www/devantier.nu/public_html/wp-includes/functions.php
on line
590
Strict Standards
: Only variables should be assigned by reference in
/var/www/devantier.nu/public_html/wp-includes/functions.php
on line
590
Strict Standards
: Only variables should be assigned by reference in
/var/www/devantier.nu/public_html/wp-includes/functions.php
on line
590
Strict Standards
: Only variables should be assigned by reference in
/var/www/devantier.nu/public_html/wp-includes/functions.php
on line
590
Strict Standards
: Only variables should be assigned by reference in
/var/www/devantier.nu/public_html/wp-includes/functions.php
on line
590
Strict Standards
: Only variables should be assigned by reference in
/var/www/devantier.nu/public_html/wp-includes/functions.php
on line
590
Strict Standards
: Only variables should be assigned by reference in
/var/www/devantier.nu/public_html/wp-includes/functions.php
on line
590
Strict Standards
: Only variables should be assigned by reference in
/var/www/devantier.nu/public_html/wp-includes/functions.php
on line
590
Strict Standards
: Only variables should be assigned by reference in
/var/www/devantier.nu/public_html/wp-includes/functions.php
on line
590
Strict Standards
: Only variables should be assigned by reference in
/var/www/devantier.nu/public_html/wp-includes/functions.php
on line
590
Strict Standards
: Only variables should be assigned by reference in
/var/www/devantier.nu/public_html/wp-includes/functions.php
on line
590
Strict Standards
: Only variables should be assigned by reference in
/var/www/devantier.nu/public_html/wp-includes/functions.php
on line
590
Strict Standards
: Only variables should be assigned by reference in
/var/www/devantier.nu/public_html/wp-includes/functions.php
on line
590
Strict Standards
: Only variables should be assigned by reference in
/var/www/devantier.nu/public_html/wp-includes/functions.php
on line
590
Strict Standards
: Only variables should be assigned by reference in
/var/www/devantier.nu/public_html/wp-includes/functions.php
on line
590
Strict Standards
: Only variables should be assigned by reference in
/var/www/devantier.nu/public_html/wp-includes/functions.php
on line
590
Strict Standards
: Only variables should be assigned by reference in
/var/www/devantier.nu/public_html/wp-includes/functions.php
on line
590
Strict Standards
: Only variables should be assigned by reference in
/var/www/devantier.nu/public_html/wp-includes/functions.php
on line
590
Strict Standards
: Only variables should be assigned by reference in
/var/www/devantier.nu/public_html/wp-includes/functions.php
on line
590
Strict Standards
: Only variables should be assigned by reference in
/var/www/devantier.nu/public_html/wp-includes/functions.php
on line
590
Strict Standards
: Only variables should be assigned by reference in
/var/www/devantier.nu/public_html/wp-includes/functions.php
on line
590
Strict Standards
: Only variables should be assigned by reference in
/var/www/devantier.nu/public_html/wp-includes/functions.php
on line
590
Strict Standards
: Only variables should be assigned by reference in
/var/www/devantier.nu/public_html/wp-includes/functions.php
on line
590
I anledning af hvalerne var kommet, afholdt man hvalfestival i Hermanus, og en markedsplads fyldt med mange mennesker, boder og musik, var nok et besøg værd, og efterfølgende gik vi på ny ned til bugten og satte os. Fire hvaler på 1½ time. Fire kolosser der med en kraft formåede at springe op af vandet og vælte ned med en vægt, at kaskader af vand slog op omkring dem. Man kunne bare fyldes med andægtighed over naturens mirakuløse storhed.
Men vi skulle videre op langs østkysten og Det Indiske Ocean, hvis vi ville nå Plettenburg i Mosselbay, hvorfra vi ifølge vores plan skal videre med bus. Turen var meget grøn og frugtbar, og ruten er da også kendt som en del af "The Garden Road."
Vi passerede farme med landbrugsarealer så store, at det ikke kan sammenlignes med noget i Danmark. Kilometer og atter kilometervis af græs og kornmarker, kæmpeafstande og kæmpearealer. Ind imellem så vi kvæg, fåre- eller strudsefarme, men det mest betagende syn, var nok en flok store blå traner.
Om eftermiddagen nåede vi til Gouritz, hvor vi lidt tilfældigt på vej over floden opdagede bungy-jump fra en nærliggende bro. Det var tid til pause, hvorfor vi stoppede og så på. Gud ved hvad det koster? 120 Rand = 90 kr. Impulsive og lidt skøre som vi jo er, træf vi en hurtig beslutning. Det skulle da prøves. Vores livs første bungy-jump, når nu lejlighed bød sig.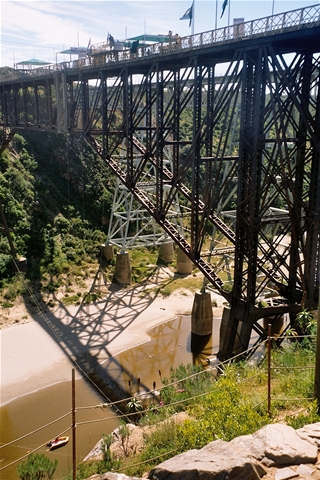 Kors i hytten der var godt nok langt ned, og det krillede gevaldigt i maven, da vi konstaterede det handlede om 65 meters frit fald. Nå men vi blev vejet, fik spændt selerne fast, og stod som de næste for at skulle springe, da en kraftig storm med et trylleslag, der mindede om en tornado, pludselig satte ind hen over broen - VENT - og vi ventede, indtil afgørelsen blev truffet. Det blev for farligt. Øv det var lige før og næsten, ærgerligt, ærgerligt. Bare to minutter, og vi ville ha' nået at have haft taget springet.
I hast blev vi afmonteret seler og remme, og vi krøb i hug sammen med et par andre bag en høj læskærm. Store kasser kurede og bokse fløj om ørene på os. Det virkede helt surrealistisk. Mandskabet råbte til os, og foroverbøjede løb vi sammen med de øvrige, væk fra broen så hurtigt vi kunne. Vi fik pengene tilbage, og blev fortalt at den slags storme pludselig opstod "out of nowhere" et par gange om året. Det var en flad fornemmelse, men det blev altså ikke til nogen bungy-jump denne gang.
Til gengæld gik turen videre til Mosselbay, hvor vi igen overnatter på et backpackersted, der hvis jeg skal forklare det, i reglen er en pension eller et privathjem hvor man deler bad og køkken, ofte med familien. Men det må siges, vi er alderspræsidenter. Endnu - tilfældigt eller hvad - har vi mærkværdigvis ikke mødt andre midaldrende, der benytter sig af denne boform. Vi stegte strudsebøf til aftensmad, igår spiste vi "hake," hvad det så var for en underlig fisk, men godt smagte den.
Stormen nåede også hertil. Alle søgte indendørs, og vi tilbragte aftenen med to hollandske piger der arbejdede i Sydafrika. Den ene som sygeplejerske, den anden som lærer.