Strict Standards

: Only variables should be assigned by reference in

/var/www/devantier.nu/public_html/wp-includes/functions.php

on line

590

&laquo

Fre 4.okt. 2002

Lør 5.okt. 2002

Strict Standards

: Only variables should be assigned by reference in

/var/www/devantier.nu/public_html/wp-includes/functions.php

on line

590 Søn 6.okt 2002

»
Postet december 18th, 2006, af Birgitte Devantier
Deprecated
: preg_replace() [
function.preg-replace
]: The /e modifier is deprecated, use preg_replace_callback instead in
/var/www/devantier.nu/public_html/wp-includes/functions-formatting.php
on line
76
Strict Standards
: Only variables should be assigned by reference in
/var/www/devantier.nu/public_html/wp-includes/functions.php
on line
590
Strict Standards
: Only variables should be assigned by reference in
/var/www/devantier.nu/public_html/wp-includes/functions.php
on line
590
Strict Standards
: Only variables should be assigned by reference in
/var/www/devantier.nu/public_html/wp-includes/functions.php
on line
590
Strict Standards
: Only variables should be assigned by reference in
/var/www/devantier.nu/public_html/wp-includes/functions.php
on line
590
Strict Standards
: Only variables should be assigned by reference in
/var/www/devantier.nu/public_html/wp-includes/functions.php
on line
590
Strict Standards
: Only variables should be assigned by reference in
/var/www/devantier.nu/public_html/wp-includes/functions.php
on line
590
Strict Standards
: Only variables should be assigned by reference in
/var/www/devantier.nu/public_html/wp-includes/functions.php
on line
590
Strict Standards
: Only variables should be assigned by reference in
/var/www/devantier.nu/public_html/wp-includes/functions.php
on line
590
Strict Standards
: Only variables should be assigned by reference in
/var/www/devantier.nu/public_html/wp-includes/functions.php
on line
590
Strict Standards
: Only variables should be assigned by reference in
/var/www/devantier.nu/public_html/wp-includes/functions.php
on line
590
Strict Standards
: Only variables should be assigned by reference in
/var/www/devantier.nu/public_html/wp-includes/functions.php
on line
590
Strict Standards
: Only variables should be assigned by reference in
/var/www/devantier.nu/public_html/wp-includes/functions.php
on line
590
Strict Standards
: Only variables should be assigned by reference in
/var/www/devantier.nu/public_html/wp-includes/functions.php
on line
590
Strict Standards
: Only variables should be assigned by reference in
/var/www/devantier.nu/public_html/wp-includes/functions.php
on line
590
Strict Standards
: Only variables should be assigned by reference in
/var/www/devantier.nu/public_html/wp-includes/functions.php
on line
590
Strict Standards
: Only variables should be assigned by reference in
/var/www/devantier.nu/public_html/wp-includes/functions.php
on line
590
Strict Standards
: Only variables should be assigned by reference in
/var/www/devantier.nu/public_html/wp-includes/functions.php
on line
590
Strict Standards
: Only variables should be assigned by reference in
/var/www/devantier.nu/public_html/wp-includes/functions.php
on line
590
Strict Standards
: Only variables should be assigned by reference in
/var/www/devantier.nu/public_html/wp-includes/functions.php
on line
590
Strict Standards
: Only variables should be assigned by reference in
/var/www/devantier.nu/public_html/wp-includes/functions.php
on line
590
Strict Standards
: Only variables should be assigned by reference in
/var/www/devantier.nu/public_html/wp-includes/functions.php
on line
590
Strict Standards
: Only variables should be assigned by reference in
/var/www/devantier.nu/public_html/wp-includes/functions.php
on line
590
Strict Standards
: Only variables should be assigned by reference in
/var/www/devantier.nu/public_html/wp-includes/functions.php
on line
590
Strict Standards
: Only variables should be assigned by reference in
/var/www/devantier.nu/public_html/wp-includes/functions.php
on line
590
Strict Standards
: Only variables should be assigned by reference in
/var/www/devantier.nu/public_html/wp-includes/functions.php
on line
590
Strict Standards
: Only variables should be assigned by reference in
/var/www/devantier.nu/public_html/wp-includes/functions.php
on line
590
Strict Standards
: Only variables should be assigned by reference in
/var/www/devantier.nu/public_html/wp-includes/functions.php
on line
590
Strict Standards
: Only variables should be assigned by reference in
/var/www/devantier.nu/public_html/wp-includes/functions.php
on line
590
Strict Standards
: Only variables should be assigned by reference in
/var/www/devantier.nu/public_html/wp-includes/functions.php
on line
590
Strict Standards
: Only variables should be assigned by reference in
/var/www/devantier.nu/public_html/wp-includes/functions.php
on line
590
Strict Standards
: Only variables should be assigned by reference in
/var/www/devantier.nu/public_html/wp-includes/functions.php
on line
590
Strict Standards
: Only variables should be assigned by reference in
/var/www/devantier.nu/public_html/wp-includes/functions.php
on line
590
Strict Standards
: Only variables should be assigned by reference in
/var/www/devantier.nu/public_html/wp-includes/functions.php
on line
590
Strict Standards
: Only variables should be assigned by reference in
/var/www/devantier.nu/public_html/wp-includes/functions.php
on line
590
Strict Standards
: Only variables should be assigned by reference in
/var/www/devantier.nu/public_html/wp-includes/functions.php
on line
590
Strict Standards
: Only variables should be assigned by reference in
/var/www/devantier.nu/public_html/wp-includes/functions.php
on line
590
Vi startede med at vandre igennem byen for næsten og fare vild. Det ville være synd at sige her er mange turister, for så havde det jo bare været og følge turiststrømmen til Victoria Falls. En indfødt fortalte os, at der på grund af de politiske uroligheder i landet kun dukkede et par enkelte turistbusser op om ugen - dette i modsætning til tidligere 10-12 stykker. Man må nu også erkende, det er ikke videre god reklame for Zimbabwe, at deres præsident nærmest slagter de hvide farmere. Mange års fejlagtig socialisme, samt mere og mere brutal diktatur ødelægger den turisme der kunne have været.
Dengang i 1980 hvor det lykkedes den sorte oprørsleder Mugabe, at overtage regeringsmagten efter det hvide mindretalsstyre, dengang var Danmark blandt de første lande i verden der åbnede en ambassade i hovedstaden Harare. På grundlovsdag i år lukkede Danmark (igen som et af de første lande) ambassaden i protest mod den politiske udvikling i landet. Mugabes ændring af forfatningen til et ét-parti-styre, hans deklarerede jordreformer der blev populært modtaget af den sorte befolkning, men i stedet havnede hos partibosser, militærfolk og politichefer - var årsagen.
Selv erindrer og deler jeg pressens forargelse for et par år siden, da man refererede den groteske historie, om zimbabwe's banker der afholdt et stort lotteri med en førstepræmie på 100.000 Zimbabwe dollars. Det kunne nok få den fattige befolkning til at drømme, men da vinderen blev afsløret, hed han Robert Mugabe. I sandhed en diktator med mange evner.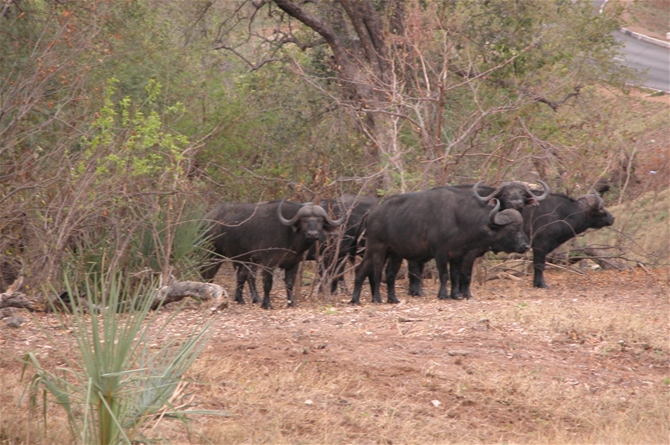 Nåh, men tilbage til turen hvor vi endnu ikke var nået ud til dagens mål, da en flok bøfler pludselig dukkede op i en lille skovtykning. Egentlig opdagede vi dem først da nogle indfødte højt råbende, kom løbende ud imellem træerne. Det var tydeligt de var rædselsslagne for bøflerne, der gik i retning ud mod vejen hvor vi stod. Det så lidt morsomt ud, men vi blev enige om, at der nok var en god grund til og holde sig lidt på afstand.
Ja det skal jeg love for. Vi blev efterfølgende belært om, at bøflen rent faktisk er Afrikas farligste og mest utilregnelige dyr. I fællesskab med flodhesten er den det dyr der slår flest mennesker ihjel i Afrika. Det vil nok være ensbetydende med, at hverken Per eller jeg fremtidigt, vil gå tættere på for at fotografere synet af vilde bøfler, som vi gjorde det i dag. For hvem har lyst til at stå i vejen for en 700 kg tungt prustende, utilregnelig, dræbermaskine - nej vel.
Victoria Falls. Jamen det var flot, imponerende og et fantastisk natursceneri, der oven i købet siges at tage sig smukkest ud fra den Zimbabweanske side. Alligevel hvis jeg skal være helt ærlig, blev jeg en lille lille bitte smule skuffet. For selv om der faldt tonsvis af vand udover den kilometer brede kant, ned i den 100 meter dybe kløft, så var det ikke den bedste årstid. Der var flere steder hvor vandmasserne ikke væltede ud over kanten, i samme mængde som det ville have gjort, havde vi været her i juni.
"Mosi-oa-tunya" kaldte de indfødte vandfaldene, der betyder "den buldrende røg." Et beskrivende udtryk, når man iagttager de kolossale vanddampe der hænger som skyer eller støvregn over hele området, og egentlig også et mere poetisk navn end Victoria Falls, som den skotske missionær Livingstone, kaldte dem til ære for sit lands dronning i 1855.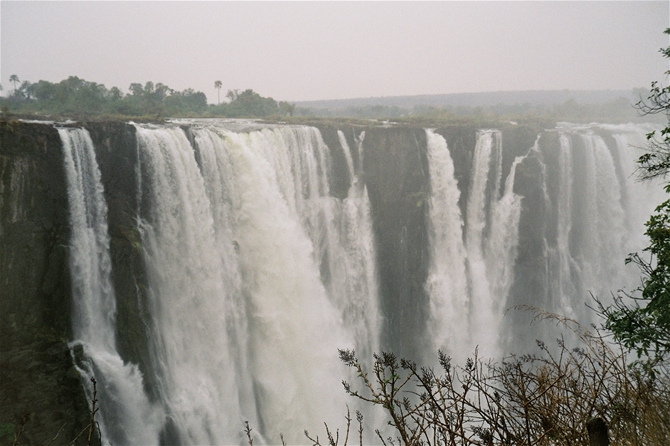 En stor bronzestatue af den engelske opdagelsesrejsende står i dag i nærheden af faldende, og minder om den kolossale bedrift det var for Livingstone, som den første europæer at kæmpe sig vej ind i hjertet af Afrika. "Hele faldet er ikke andet end en spalte i den hårde basaltklippe, men det vidunderligste skuespil jeg har været vidne til i Afrika," skrev han. Og så drog han videre og mødte - langt senere og meget længere nordpå - som bekendt Stanley, der modtog ham med ordene "Doctor Livingstone, I presume?"
Vi gik hen imod grænsen og broen der fører over til Zambia (hvortil vi kører i morgen), før vi vendte tilbage til Savanna Lodge, spændte på mødet med alle de andre. Altså "Nomad Tours" og den gruppe Ida, Per, Morten og jeg skal følges med resten af turen, herfra og til Nairobi i Kenya. Vi skal køre i en stor lastbil der er bygget om til en slags bus med plads til 22 personer, chauffør og rejseleder Dave, plus kokken Mark der skal være den ansvarlige for madlavningen.
Vores gruppe viste sig at være ret så international. En irer, et par australiere, en fra Luxemburg, fire danskere, nogle canadiere, amerikanere, tyskere og englændere. Og det tegner rigtig godt. Der er en dejlig, rar, afslappet og munter stemning, som fornemmedes da vi om aftenen tog sammen ud og spiste. Ih… hvor vi glæder os.